160cc Self-Propelled 3-in-1 Gas Lawn Mower 21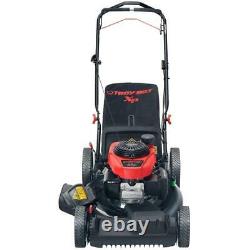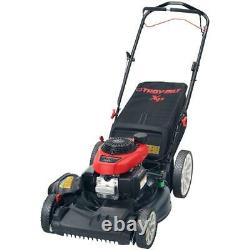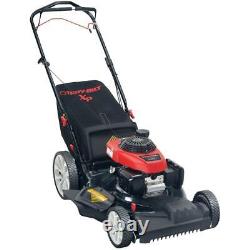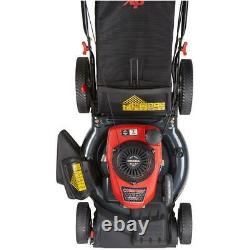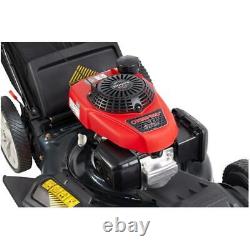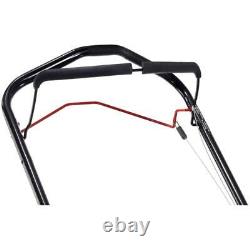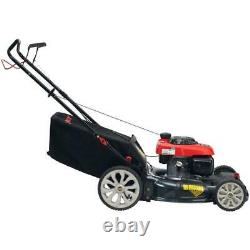 This Troy-Bilt® self-propelled lawn mower will make yard work a little easier thanks to the easy-to-operate front wheel drive transmission. The 160cc Honda engine provides reliable power and dependable, no choke starting with the Auto Choke System.
The 3-in-1 deck includes rear bag, mulch and side discharge options. Featuring the innovative TriAction® cutting system, this lawn mower is complete with a rake cover to lift grass upright, as well as a specially designed blade for finer mulching. This model is ideal for flat or moderately hilly terrain. 160cc Self-Propelled 3-in-1 Gas Lawn Mower - 21 /. Tondeuse à essence autopropulsée 3-en-1 de 160 cm3, 21 po. Cette tondeuse autopropulsée Troy-Bilt facilitera le travail sur votre terrain grâce à une traction avant facile à utiliser. Elle est propulsée par un moteur Honda de 160 cm³ qui assure un démarrage fiable et sans étrangleur grâce au système d'étrangleur automatique. Le plateau 3 en 1 comprend des options de sac arrière, de déchiquetage et d'éjection latérale. Dotée du système de coupe innovant TriAction, cette tondeuse est équipée d'un pare-chocs avant dentelé pour redresser l'herbe et une lame conçue pour un déchiquetage plus fin. Idéale pour les terrains plats et les pentes douces.
Vous pouvez compter sur Troy-Bilt pour vous aider dans votre jardin en vous appuyant sur la garantie limitée de quatre ans. Product Details / Détails du Produit. Powered by a 160cc Honda Auto Choke engine that removes the need for manual choke adjustment before starting. Engineered with a built-in, single speed drive system of 2.5 MPH to help you handle large or hilly yards. Pushes more easily over rough spots and up hills with 11 high rear wheels.
TriAction® cutting system delivers a well-groomed look to your lawn. Rake bumper, specialized blade and symmetrical deck work together to create finely mulched clippings and a clean, even cut every time. 1.9 bushel rear bag collects grass clippings for easy clean up or composting. Side discharge, mulch or rear bag grass clippings. Dual-lever, 6-position height adjustment makes it easy to change cutting heights from 1.25" to 3.75".
Équipée d'un moteur Honda de 160 cm³ avec étrangleur automatique qui élimine la nécessité de régler manuellement l'étrangleur avant le démarrage. Conçue avec des systèmes d'entraînement intégrés À une vitesse de 4 km/h vous permettant de travailler sur des grands terrains ou des terrains vallonnés. Facile à pousser sur des terrains accidentés et sur des collines grâce aux roues arrière de 11 po de haut. Équipée du système de tonte TriAction(MC) qui donne à votre pelouse un aspect soigné grâce au pare-chocs avant dentelé, une lame spécialement conçue pour un déchiquetage plus fin et un plateau symétrique pour une meilleure circulation des débris. Le sac arrière de 1,9 boisseau recueille l'herbe coupée pour un nettoyage facile ou pour le compostage.
Fournit 3 fonctions: ensachage arrière, déchiquetage et éjection latérale. Les deux leviers de réglage de la hauteur de coupe à 6 positions facilitent le changement de la hauteur de 1,25 à 3,75 po. L'adaptateur de lavage du plateau facilite l'entretien en connectant simplement un tuyau d'arrosage ordinaire (vendu séparément) pour rincer les débris de coupe sous le plateau. This item is in the category "Consumer Electronics\Multipurpose Batteries & Power\Rechargeable Batteries".
The seller is "lemondedufoyer" and is located in this country: CA. This item can be shipped to Canada, United States.
Brand: TROY-BILT
Type: Outdoor Power Equipment
Voltage: See Details
MPN: 12A-B2FQ563
Manufacturer Warranty: By manufacturer
UPC: 043033595280