Husqvarna Z242F (42) 21.5HP Kawasaki Zero Turn Lawn Mower FREE SHIP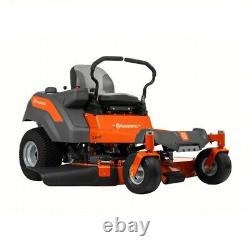 Feel free to google us for contact info for online sales and questions. The Husqvarna Z242F features a 42-inch, fabricated deck with a Kawasaki FR Series engine. This model features the ClearCutT fabricated cutting deck welded with high performance blades, air flow control baffles and top discharge. 21.5HP/726cc Kawasaki FR600V series V-Twin Engine. 42-Inch Fabricated, 2-Blade Mower Deck.
3.5 gallon fuel capacity. Ground speed: 6.5 mph forward/3.5 mph reverse. Front wheels: 11 x 6 in. Rear wheels: 18 x 8.5 in.