Self Propelled Mower Front & Rear Wheel Assembly for Honda HRR216 HRS216 HRT216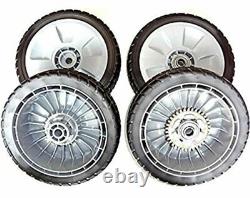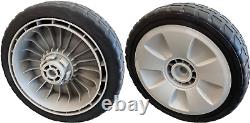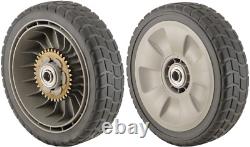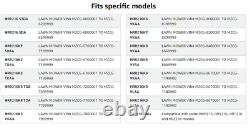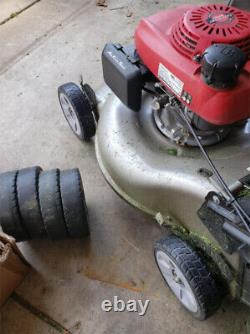 Self-Propelled Mower Front Rear Wheel Assembly Set Honda HRR216 HRS216 HRT216. Lawn Mower Wheels For Honda Lawnmower 44710-VL0-L02ZB, 42710-VE2-M02ZE Front & Rear Wheels Replacement. Includes quantity 2 Rear Wheels (42710-VE2-MO2ZE) and quantity 2 Front Wheels (44710-VL0-L02ZB).
Each wheel diameter measures approximately 7-3/4? Honda Parts; 44710-VL0-L02ZB Replaces 44710-VG3-000, 44710-VG3-010.
42710-VE2-M02ZE Replaces 42710-VG3-B00, 42710-VE2-M00ZE, and 42710-VE2-M01ZE. Includes 2 front wheels 44710-VL0-L02ZB & 2 rear wheels 42710-VE2-M02ZE. Fits Honda mowers HRR216 SDA, HRR216K2 (SDAA, TDAA, TKAA), HRR216K3 TDA, and HRR216K4 TDA. Fits Honda mowers HRS216 SDA, HRS216K1 (SDA, SDAA), HRS216K2 SDAA, HRS216K3 SDAA, and HRS216K4 SDAA. Fits Honda mowers HRT216 SDA, HRT216K1 (S3DA, SDA, SDAA, TDAA) and HRT216K2 TDAA.
Compatible with Honda Lawnmower models including: HRR2169VKA, HRR216SDA, HRR216K10 PKA, HRR216K10 VKA, HRR216K10 VLA, HRR216K10 VYA, HRR216K11 PKA, HRR216K11 VKA, HRR216K11 VLA, HRR216K11 VYA, HRS216K6 PKA, HRS216K6 VKA, HRS216K7 PKA, HRS216K7 VKA etc. If the item is not to your satisfaction, please feel free to message us!