Self Propelled Mower Front Rear Wheel Assembly Set Honda HRR216 HRS216 HRT216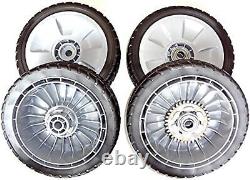 Genuine OEM Honda Parts; 44710-VL0-L02ZB Replaces 44710-VG3-000, 44710-VG3-010. 42710-VE2-M02ZE Replaces 42710-VG3-B00, 42710-VE2-M00ZE, and 42710-VE2-M01ZE. Includes 2 front wheels 44710-VL0-L02ZB & 2 rear wheels 42710-VE2-M02ZE. Fits Honda mowers HRR216 SDA, HRR216K2 (SDAA, TDAA, TKAA), HRR216K3 TDA, and HRR216K4 TDA. Fits Honda mowers HRS216 SDA, HRS216K1 (SDA, SDAA), HRS216K2 SDAA, HRS216K3 SDAA, and HRS216K4 SDAA.
Fits Honda mowers HRT216 SDA, HRT216K1 (S3DA, SDA, SDAA, TDAA) and HRT216K2 TDAA.