Toro Gas Snow Blower 21 212cc Chute Control Easy Electric Start Self-Propelled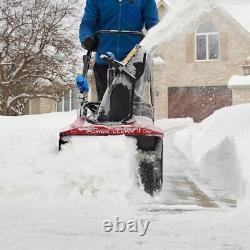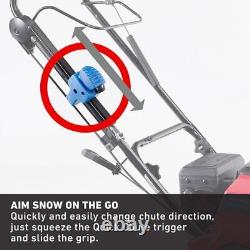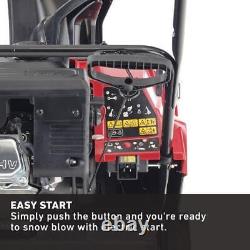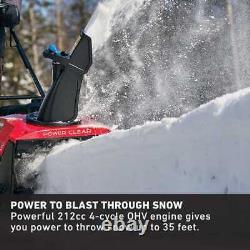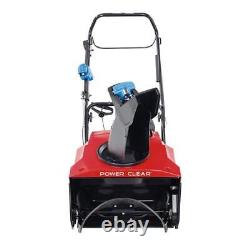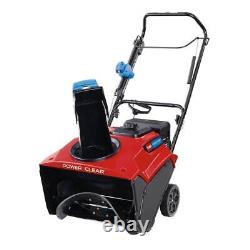 Toro Power Clear 721 QZE 21 in. 212 cc Single-Stage Self Propelled Gas Snow Blower with Electric Start.
Built to clear up to a 9 car driveway. Electric Start simple and easy to use with push button start. Chute Control, just squeeze and shoot.
The big game is nearly here but you've got snow to plow. No worries, you'll be back to the action in no time with the Toro Power Clear 721 QZE Single Stage 21 in. Gas Snow Blower with Quick Chute. Quickly and easily change the chute direction without skipping a beat. Just squeeze the quick-shoot trigger and slide the grip.
Starts easily with electric start. Even deep snow jobs are a cinch, as the 212cc 4-cycle OHV engine launches snow 35 ft. Shred snow fast with the patented Power Curve system, while the self propel Power Propel system gets you moving on quickly. You'll have more room for storage with the blower's compact design.
Chute Turning Radius (Degrees): 210. Features: Chute Control, Electric Start, Self-Propelled. Number of Forward Speeds: Variable. Number of Reverse Speeds: 0.
Recommended Terrain: Flat, Sloped, With Obstacles. Snow Equipment Product Type: Single Stage Gas Snow Blower. Stage Type: Single-Stage Snow Blower. Type of Snow: Fluffy, Light.