Toro Snow Blower Self-Propelled Single-Stage Gas 518 ZE (18) Auger Assisted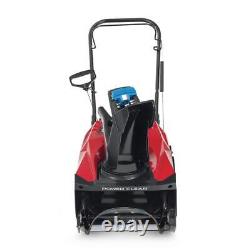 Built to clear up to a 9 car driveway. Easy Electric Start with a simple push of a button. Self-propelled snow blower that clears to pavement.
Tackle small driveway/walkway jobs in no time with the Toro Power Clear Self-Propelled Single-Stage 18 in. Gas Snow Blower with push-of-a-button electric start. Quickly and easily clear 18 in. Deep snow, and blast compacted snow and ice where you want it up to 25 ft.
Ideal for concrete and asphalt surfaces that can park up to 9 cars and 2-9 in. Of snow at a time. The compact design and foldable chute allows for easy storage and leaves room in the garage room for what matters. Chute Turning Radius (Degrees): 210. Features: Auger Assisted, Chute Control, Electric Start.
Number of Forward Speeds: Variable. Number of Reverse Speeds: Variable. Recommended Terrain: Flat, Sloped, With Obstacles. Snow Equipment Product Type: Single Stage Gas Snow Blower.
Stage Type: Single-Stage Snow Blower. Type of Snow: Fluffy, Light.